The Police Athletic League of Wilmington gives our youth a safe haven to go after school to channel their energies in positive directions to promote self-esteem, good life choices, and healthy lifestyles.
Our center has a full time police officer and dedicated staff who work to enhance the positive moral development of our young people through a large variety of sports, education, and recreational programs. All of PALW's programs are completely free of charge.

PALW is a nonprofit 501c3 organization that appreciates both volunteers and donations to help fund the programs that we offer for Wilmington's youth.
The Police Athletic League was founded in 1914 by Captain John Sweeney, commanding officer of a Lower East Side police precinct in New York City. The PAL mission remains unchanged – to keep young people out of trouble by channeling their energies into recreational and athletic programs.
The Police Athletic League of Wilmington (PALW), Inc. opened its doors to the community in June 2002. Since then, the number of citizens served and the variety of programs offered continue to increase.
Building Brighter Futures
ACCOUNTABILITY
Taking Responsibility for our actions.
INTEGRITY
Doing the right thing for the right reasons all the time.
COMMUNICATION
Interacting and speaking effectively in a positive manner.
HARD-WORK
Giving good effort and endurance, above and beyond.
QUALITY OF SERVICE
Exceeding policy standards at all times.
LEADERSHIP
Showing responsibility and supervision.
TEAMWORK
Effectively working together to be successful.
RESPECT
Showing compassion and sensitivity to the needs of others.
HONESTY
Strength of character, truthful and trustworthy.
DISCIPLINE
Obeying rules and regulations.
SPORTSMANSHIP
Acting and showing respect to others at all times.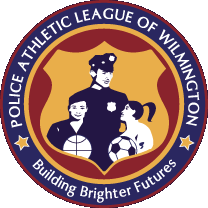 In addition to our focus on youth, the PALW opens its doors to the community seven days a week hosting civic associations and public service organizations, which utilize the facility to plan and implement community service activities. PALW maintains the status as an emergency shelter and has served residents during Hurricane Isabella in 2002, those displaced by fires, which destroyed the Crestview Apartments and Speakman Place, and families evacuated due to flooding of the 28th Street Apartment Complex. PALW stands ready to shelter people in the community when an emergency arises.